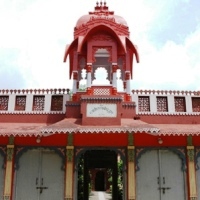 Navlakha Mahal
Place where book Satyarth Prakash was completed
: India, Rajasthan, Udaipur
Navalakha Mahal is situated in the heart of a blooming rose garden(Gulab Bag) which was originally laid out in the nineteenth century in the historical city of Udaipur also known as the "City of Lakes".
This Navalakha Mahal carries in its bosom the hallowed memories of Maharishi Dayanand, a remarkable sage and reformer who brought the light of Vedic learning to the Indians who in the nineteenth century were groping in darkness and ignorance. A profound scholar of Vedas and scriptures and a perfect Yogi, Maharishi Dayanand sacrificed his very being on the alter of humanity.
Maharishi Davanand who arrived in Udaipur on 10 August 1882 on the invitation of His Highness Maharana Sajjan Singh, the 72nd ruler of the Kingdom of Mewar, remained here for almost six and a half months and stayed in Navalakha Mahal.
In this sacred Navalakha Mahal Maharishi Dayanand completed the writing of his best work, the immortal Satyarth Prakash. This Satyarth Prakash was his code of conduct for human life. He wrote it for the well being of mankind and also for transmitting divine knowledge to the common man. For this reason, this Mahal had a hallowed place in the history of the Indian Renaissance of the 19th century and deserves to be named as Satyarth Prakash Bhavan.
Photo Gallery